You know that you have to replenish your body after your workout with certain types of protein and carbs, but what are you supposed to eat before you workout?
In this post, I'm going to share with you the perfect pre-workout bodybuilding meal.
*I'm also going to give you some different variations of this meal so that you never get tired of it!
It's packed with the right types of protein and carbs that will give you the energy to sustain even the toughest training sessions.
Even though there's some cooking involved, this is relatively a quick meal. And the best part is it's easy to make several servings in on batch. So you can easily make pre-workout meals for the entire week.
Pre-Workout Meal Ingredients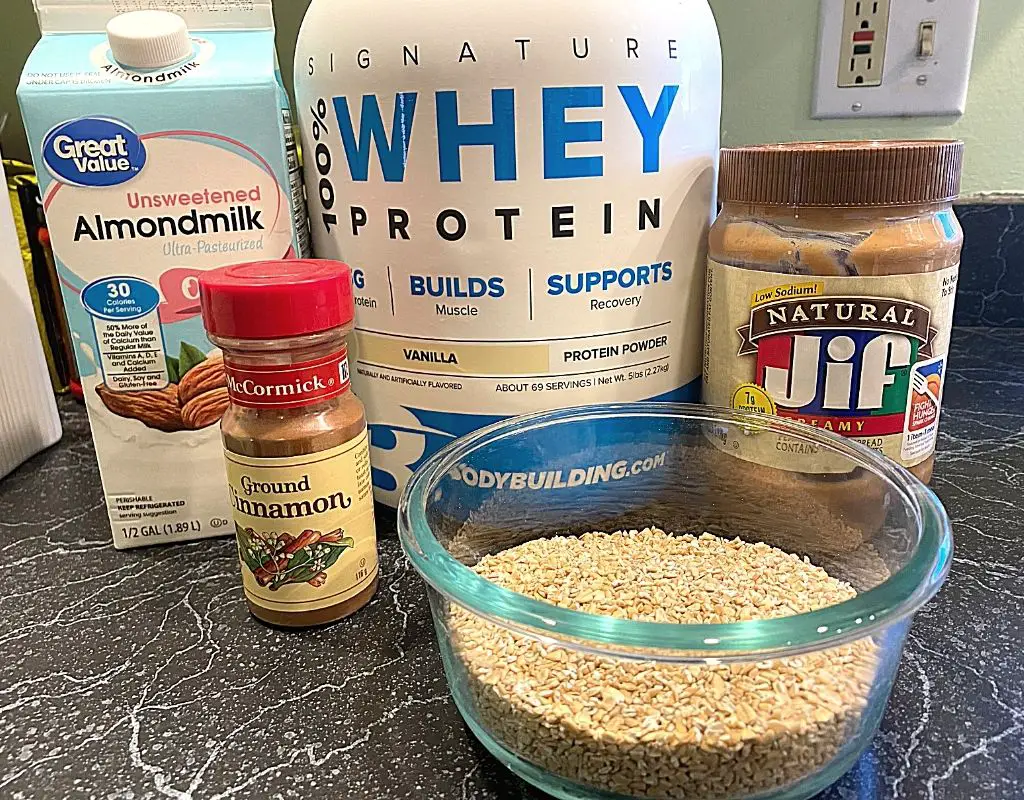 Let's start with the simple list of ingredients you need to make this protein-packed pre-workout meal.
**These are just for the basic meal. At the end of this post, I'll give you some more options to add.
Ingredient List
Protein powder
Steel-cut oats
Almond milk (unsweetened)
Natural peanut butter
Again, those are the basic ingredients and I suggest just sticking with this the first time you make it.
Meal Prep and Cooking Instructions
Servings: The below recipe will make 4 servings
Prep Time: 5 minutes
Cooking Time: 20 minutes
Of course, the serving size will depend on your personal preference. You can split this up however you see fit.
If you're like me and train early mornings, and don't care to eat as much that early, one serving is more than enough.
If you train at another time and want to treat this as more of a full meal, you may decide to make this recipe make three servings.
I'll provide the macros for both options later.
Step 1: Cooking Steel-Oats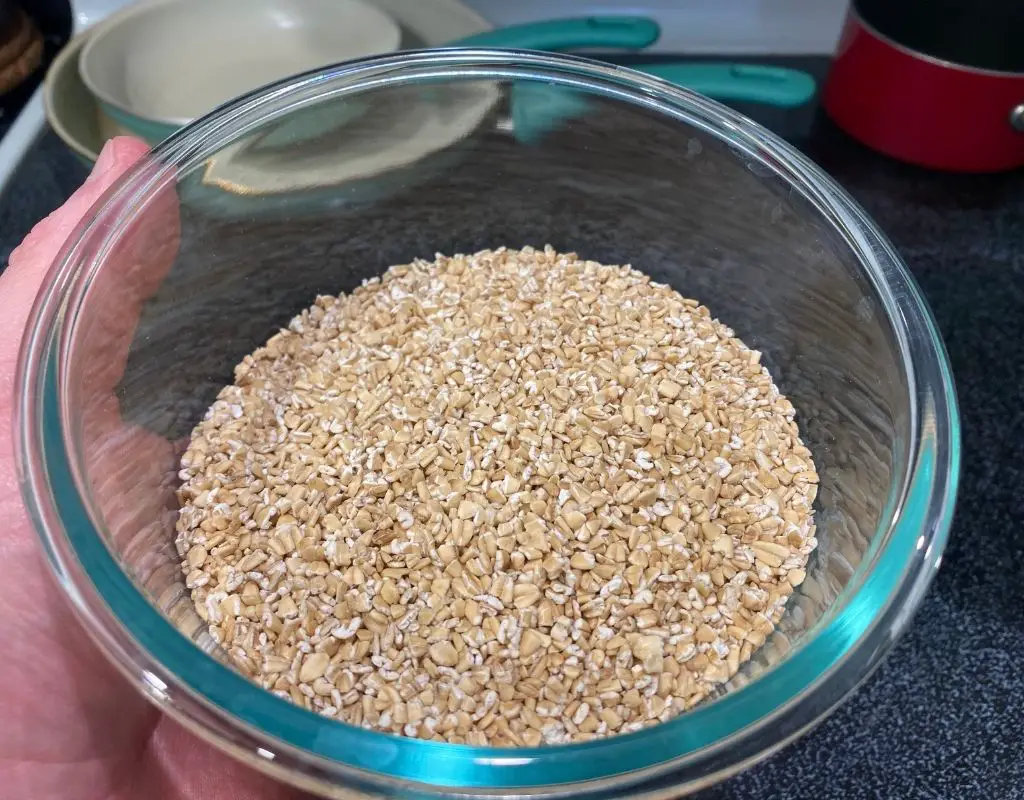 Cook the steel-cut oatmeal first on the stovetop.
*You can also use old-fashioned rolled oats if you like.
Pour 2 1/2 cups of water (or almond milk, or water and almond milk combined) into a pot and place on the stovetop
Turn the stove on high heat
Add 1 cup of dry steel-cut oats and stir in
Add a pinch of salt (this helps bring out the taste in steel-cut oats)
Bring to a boil and then turn the heat down to low/simmer
Let simmer for 15-20 minutes
Stir occasionally so that the oats do not stick to the pot
STEEL-CUT OATMEAL COOKING TIPS: Steel-cut oatmeal does taste better using milk or almond milk as opposed to just water. Combining the two is okay, as well (ex: 1 cup of water + 1 1/2 cups of almond, or vice versa).

When including milk or almond milk, you will need to take the pot off as soon as it boils and stir often within the first few minutes. Milk of any kind tends to boil over quickly, so keep a close eye on this as you're cooking.

One thing I do is I'll have another stovetop burner already on low/simmer and will transfer the boiling pot to that burner and let it simmer there for about20 minutes (and turn off the high-heat one, of course). You'll still need to stir at first, and it's also a good idea to stir every few minutes to keep from sticking.
Step 2: Mixing All Ingredients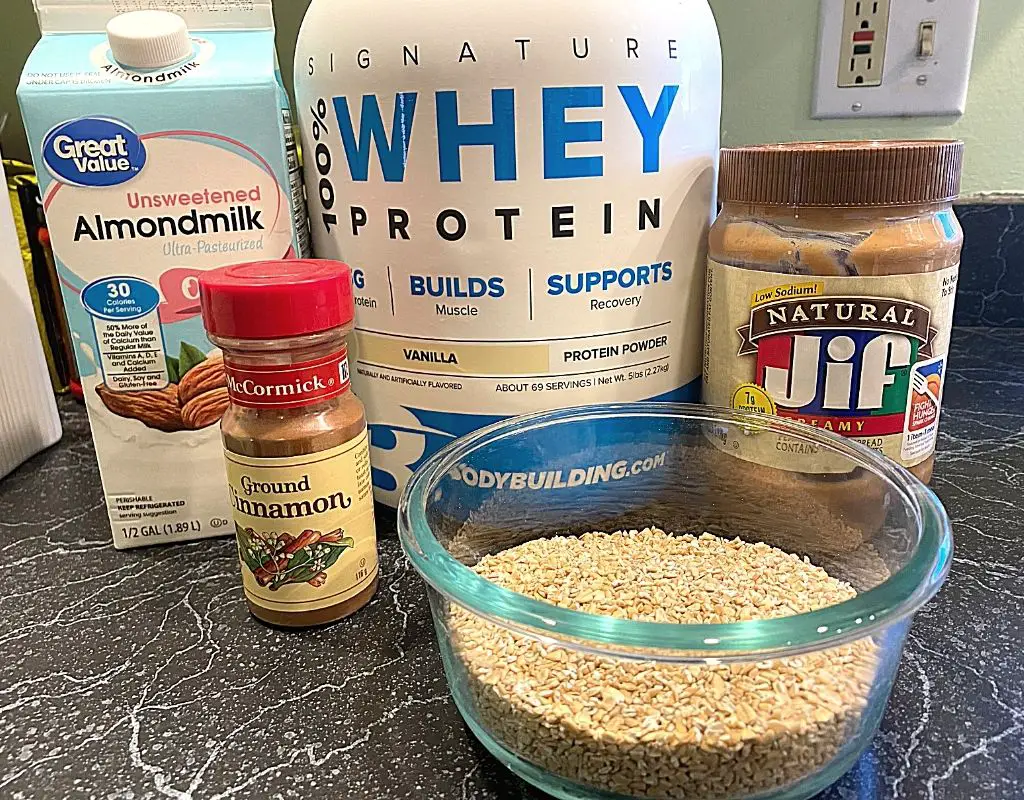 Once the oatmeal has finished cooking, put it into a large mixing bowl. This is where you start to add the other ingredients.
Put cooked oatmeal into a large mixing bowl
Add 4 scoops (servings) of whey protein powder
Add 4 tablespoons (2 servings) of natural peanut butter
Add a dash of cinnamon
Stir ingredients for about 2 minutes, or until well-mixed
**For protein, I've been using Bodybuilding.com's whey protein powder. It mixes well, tastes awesome, and does not give me any bloating of stomach issues like some protein powders do.
You can get this whey protein from Amazon here (this is my affiliate link – thank you for your support): Bodybuilding Whey Protein Powder
Before you prep the below ingredients, you can turn on our oven to 350 degrees so that it will be ready for step 3…
Step 3: Baking
Now it's time for the final step of your pre-workout meal. The baking.
Make sure your oven is on at 350 degrees
Pour the mixed ingredients into a baking dish
Bake in the oven for 15-20 minutes
Once baked, take the dish out and let it cool for about 10 minutes
You'll find that this turns out to be more of a casserole type of meal. Once it's cooled, you can do one of two things…
Cover and store in the refrigerator
Cut into servings to store individually in the refrigerator (this is helpful if you need to quickly take a serving to go)
Here's what the end result looks like…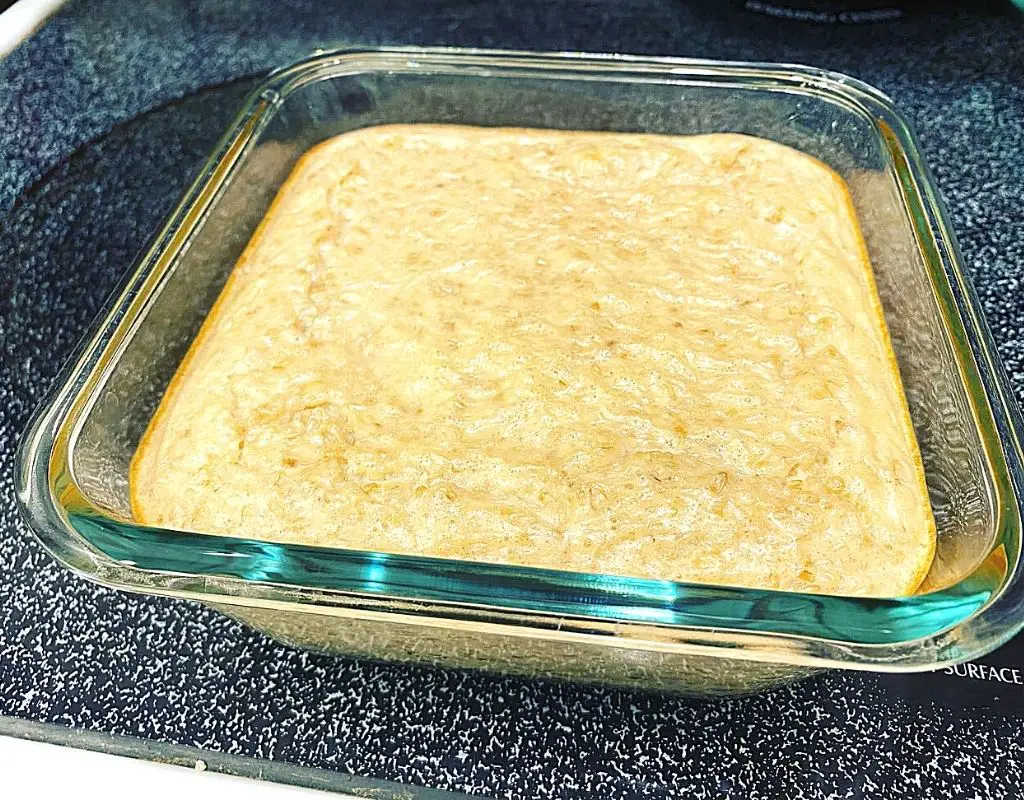 Some prefer to skip the baking step and just store the mixed batch in the refrigerator right away. And that's actually okay. This is typically how homemade protein bars are made.

But the baking adds a different texture and taste to your meal. So I do encourage you to try the baked version.

**For more similar bodybuilding recipes, check out my post on the 200+ Bodybuilding Recipes here.
Pre-Workout Meal Macros
Now, let's get into the macros of this protein-packed pre-workout meal. Below are the approximate macros for an individual serving based on both a 4-serving dish.
| Macronutrient | 1 Serving Based on a 4-Serving Size Dish | 1 Serving Based on a 3-Serving Size Dish |
| --- | --- | --- |
| Protein | 32 | 42 |
| Carbs | 37 | 49 |
| Fat | 15 | 20 |
| Calories | 388 | 517 |
From here, you can add or takeaway ingredients to give you more or less calories, or change the macronitrient ratio.
For example, if you wanted to reduce both calories and carbs you could use only half or 2/3's of the steel-cut oats in this recipe.
If you're going for mass and want more calories you could simply increase the serving size of any of these ingredients.
Additionally and Optional Ingredients
I mentioned in the beginning of this post that I would give you some more options to make this pre-workout meal more interesting.
Here are some other ingredients you may want to consider adding or substituting:
1 can of organic pumpkin – a low-calorie addition and gives you extra vitamin C, K, magnesium, potassium, and riboflavin
1-2 servings of coconut oil – can help lower bad cholesterol and raise good cholesterol levels
1-2 servings of almond butter – a good source of vitamin B12, vitamin E, and can promote heart-health (also often substituted for peanut butter)
1-2 servings of nuts – great sources of omega-3 and omega-6 fatty acids
1-2 servings of fruits – fruits like blueberries and dark berries contain a substantial amount of antioxidants
Keep in mind if you're adding more ingredients you may decide to use less of some of the other ingredients, or even eliminate other ingredients in the original recipe here.
For example, you may replace peanut butter with coconut oil or almond butter. Or you may reduce the amount of oatmeal and add the pumpkin (to level out the carb content).
That's the beauty of this bodybuilding recipe. You can easily mix-and-match or try different ingredients.
TIP: When experimenting with different ingredients, cook in small batches, such as making 2-serving dishes. Whereas it's almost impossible to make a 'bad' protein and oats meal, you don't want to be stuck with something you really don't like for more than a meal or two.

**For more similar bodybuilding recipes, check out my post on the 200+ Bodybuilding Recipes here.
Best Types of Protein and Carbs for Pre-Workout Meals
Let's go a little deeper into why this could be your perfect pre-workout meal…
The key to pre-workout nutrition is sustainability. You need the right types of protein and carbs that are slow-digesting.
You may see a contradiction here as whey protein powder is fast digesting. However, the fats from the peanut butter help slow that down so that it's more sustaining.
The types of carbohydrates you're getting from the steel-cut oats are slow-digesting. This will give you the energy you need during your workout. You'll be pumping out those extra sets and reps.
I hope you try this tasty pre-workout meal. For more bodybuilding recipes, be sure to read my post about Anabolic Cooking here.
Train (and eat) with Passion,
Jason