Can you maintain muscle on vacation? Absolutely, and I'm going to show you how!
In fact, I'm going to share my actual workouts and workout schedule I did while vacationing in Thailand. But don't worry, you're not gonna be in the gym every day (aka…enjoy your time off!). 
Here's what you'll learn:
How to enjoy your vacation without worrying about losing muscle
Ways you maintain muscle with limited workouts on vacation
How to use minimal equipment at your hotel gym; just make it work!
Realize that you're not going to lose muscle by missing a few workouts
How to Workout While on Vacation
You just arrived at your destination and unpacked the necessities. You're getting ready for a couple of weeks of complete serenity. And then it hits you…
'Wait, today's chest day! I've gotta find a gym!!'
I'm half-way joking. But the thought does cross our minds while on vacation, doesn't it? And there's also that fear of losing muscle. 
First of all, you don't have to work out on vacation. If you choose to take time off completely from the gym, that's ok!

Even if you were to lose a pound or two of muscle, you'd quickly gain that back after your vacation. In fact, you may come back stronger after taking a break, letting your body and muscles rest. 
The only time I would advise against taking a long break from working out is if you just started working out, or if you have some serious fitness goals and don't want to break your routine. 
However, you may be like me and just can't stay away from training for more than a few days. If that's the case, read on because I'm going to give you (and me) some guidelines to follow while on vacation.
It'll be the best of both worlds (like that Van Halen song off 5150!); you'll get to train enough to scratch that itch, and you'll still have an awesome time on your vacation. 

*Speaking of music, here's an instrumental heavy metal workout album for you called Heavy Metal Workout
Guidelines for Working Out on Vacation
Alright, here are some basic guidelines for working out while you're on vacation. Follow these and I think you'll find it to be a perfect balance. 
No Workout Schedule
That's right. Do not create a workout schedule while you're on vacation. You probably already have an idea of what you'd train anyway because it's your nature. But don't write it out or make it formal. Seriously, just wing it.
No Intense Workouts
There's no need to go super heavy or train all-out while you're on vacation. Instead, use this time to let your body recuperate from the intense workouts you normally do. 
My personal rule is lighter weights with a decent amount of reps. You just want to get a little pump.
Do Short Workouts
Cut your normal workout in half. Or maybe even 1/3. You can do a lot in just 20 minutes if you focus. Get in and out of the gym, quickly!
Do Deload Workouts
Shorter, less intense workouts are also known as deload workouts.
Deloading is what you do when you need to give your body a break but don't want to break your normal workout routine. So you train but only do abbreviated workouts.
You can read about my complete deloading program in this post: Deload Workouts: Back Off to Build More Muscle
Don't Train Every Day
Better yet, don't even train every other day. Let at least 3 days go by between workouts, especially if you're on a longer vacation (like 2 weeks or more).
My Thailand Vacation Workouts
 Now I'd like to share my personal workouts with you while I was on a lengthy vacation in Thailand (I absolutely love this country!). We stayed in 3 regions of Thailand…
Chiang Mai
Khao Yai (near Pak Chong)
Bangkok
Keep in mind that I did not have a workout schedule. There was no plan, and I recommend you do the same. This is a good time to just wing it. After all, you're on vacation!
I did have in the back of my mind that I would alternate my upper and lower body each workout. 
Workout 1: Upper Body in Chiang Mai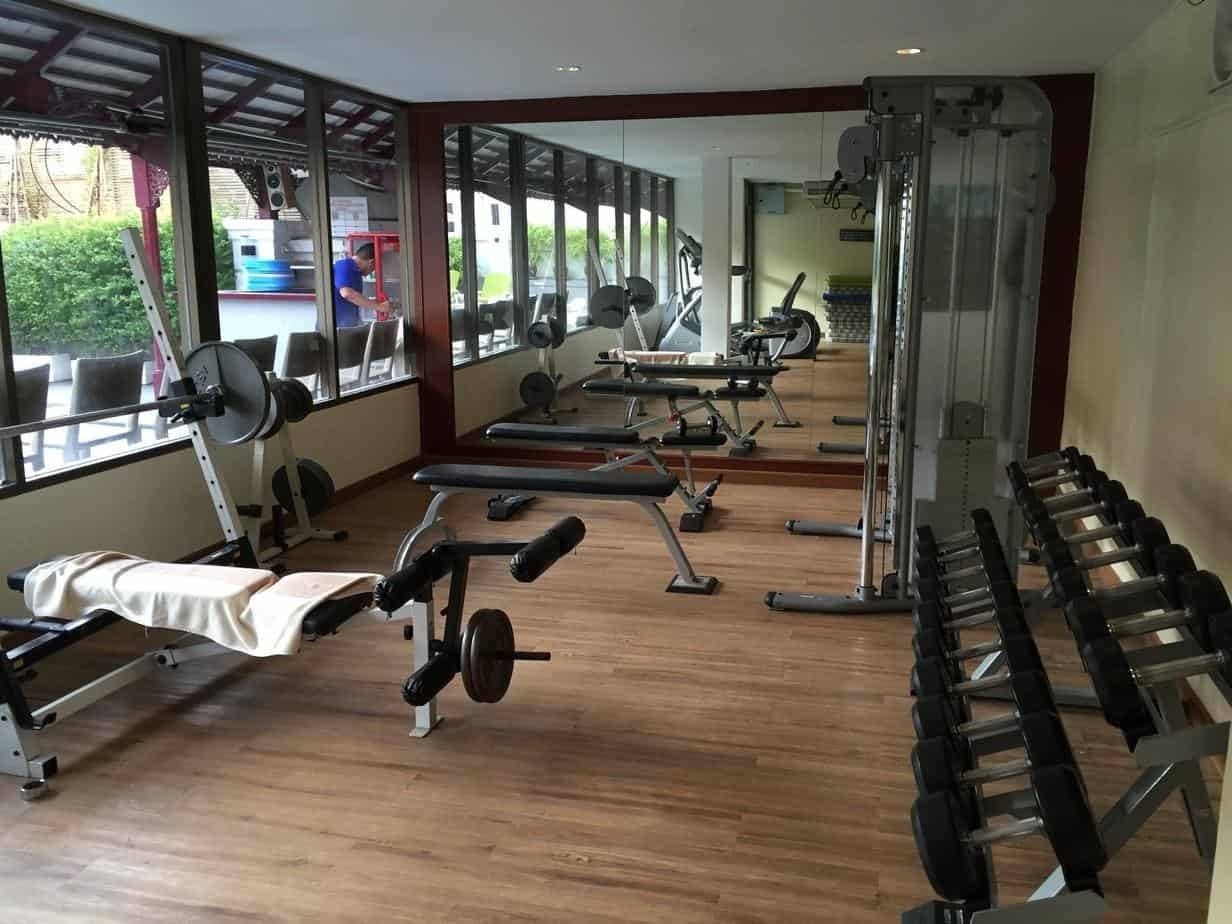 We flew into Bangkok, stayed the night and then went back to the airport to fly to Chiang Mai, which is northern Thailand.
We stayed at the Dusit Princess in Chiang Mai, an older hotel located right on the Bazaar Night Market strip. Talk about a bodybuilder fantasy…there's plenty of protein with all the amazing street food!
I didn't expect much for a hotel gym but was extremely surprised. They had plenty of free weights, a couple of benches, machines, and dumbbells that went up to 50 lbs! And there was a beautiful view of the pool outside the gym.
We stayed in Chiang Mai for 4 days, so I only got in 1 workout there. I chose to do some upper body (a little chest, back, and arms). 
| Exercise | Sets Reps |
| --- | --- |
| Bench Press | 7 x 8-12 |
| Dumbbell Flyes | 4 x 12 |
| Dumbbell Rows | 4 x 12 |
| Barbell Rows | 4 x 12 |
| Dumbbell Curls | 3 x 8 |
| Overhead Dumbbell Extensions | 3 x 10 |
Khao Yai: 3 Days of Rest
After Chiang Mai, flew back to Bangkok and then drove to Pak Chong. My wife has family there (Nakhon Ratchasima). We stayed just outside of Pak Chong in a town called in Khao Yai.
Our hotel was the Chateau de Khaoyai resort. This is a peaceful place but there was no gym. That's ok because that was an awesome time of relaxing and enjoying the peaceful views. I knew we'd be in Bangkok in a few days and get to work out a few times there.
Workout 2: Legs in Bangkok
By the time we arrived in Bangkok, it had been about 4 days since I had trained. We stayed in the Siam area (Pathum Wan District) at the Novotel Bangkok on Siam Square.
I can't say enough great things about this hotel, and this area of Bangkok. It's right by the major shopping malls, and the sky train is right around the corner so we had quick access to travel throughout the city of Bangkok.
I wasn't sure what to expect for a gym but I went to check it out the next morning. They actually had a nice little gym packed with equipment called In Fitness. I guess this is due to many people traveling through this area, and this is considered a high-end hotel (hotels like this in the U.S. are several hundred more per night!). 
Now, it wasn't like a Golds or Powerhouse gym. It was mostly machines. But it was far better than any hotel gym I've trained at. So I was happy! 
I was only planning to workout twice while we were there, but I ended up doing 3 workouts. The first one was all lower body.
For legs, I kept the reps high and stuck with lightweight to just get a pump. My legs were getting plenty of work naturally as we walked a lot, every day while in Thailand. 
| Exercise | Sets Reps |
| --- | --- |
| Squats | 5 x 15 |
| Leg Extensions | 5 x 15 |
| Leg Curls | 5 x 12 |
| Decline Situps | 4 x 15 |
Workout 3: Upper Body in Bangkok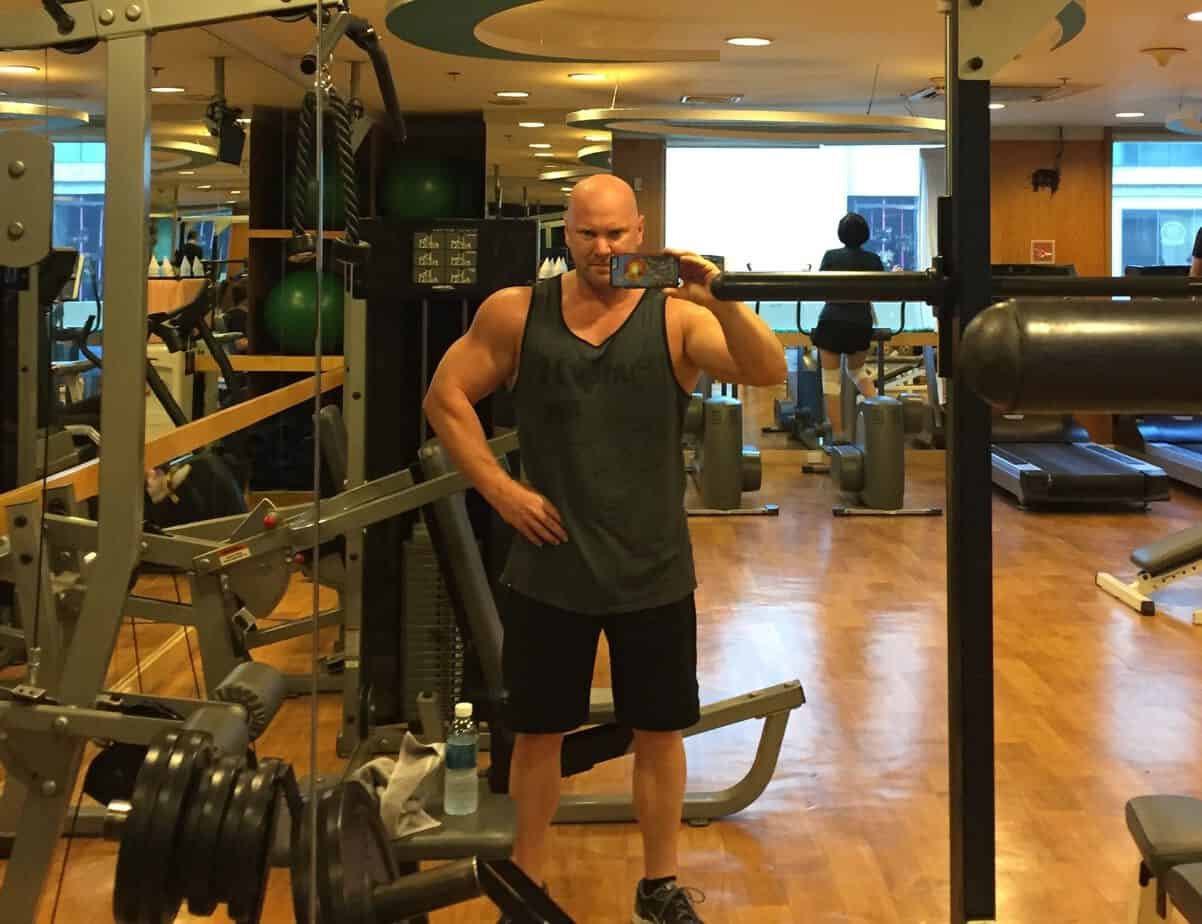 A couple of days after hitting some legs, I decided to go in for another upper body workout. If you recall, my first workout was upper body in Chiang Mai.
So here I am about to work some of those same muscles in another region on Thailand. That's just an extremely cool thought to me!
My intent here was too again, just hit some light weights, nothing too intense, and get a pump. And what I didn't mention before is that my post-workout meals were the breakfast buffet. Freaking amazing!
Here's my upper body workout while on vacation in Bangkok…
| Exercise | Sets Reps |
| --- | --- |
| Incline Press Machine – superset with below | 5 x 10-12 |
| Cable Pressdowns | 5 x 10-12 |
| Shoulder Press Machine – superset with below | 4 x 10 |
| Dumbbell Flyes | 4 x 8 |
| Bent-over Raises – superset with below | 4 x 10 |
| Rope Pressdowns | 4 x 12 |
*I did supersets for the entire workout…this made the workout go by faster! 
Workout 4: Full Body in Bangkok
I'm quite the sentimental guy and had grown an attachment to this little gym in the Novotel Bangkok on Siam Square. So I had to get one final workout before we flew back to the States. 
My final workout on vacation was a very light full-body workout. Just a couple of high rep sets for each body part before chowing down on the breakfast buffet. 
| Exercise | Sets Reps |
| --- | --- |
| Chest Press Machine | 2 x 15 |
| Lat Pulldowns | 2 x 15 |
| Lateral Raises | 2 x 15 |
| Rope Pressdowns | 2 x 15 |
| Dumbbell Curls | 2 x 15 |
| Leg Extensions | 2 x 15 |
| Leg Curls | 2 x 15 |
Do You Workout On Vacation?
While we were in Thailand, I worked out a total of 4 times during the 2 and a half weeks we were there. I absolutely loved being in Thailand – it's a beautiful place with the friendliest people you'll ever meet. 
That said, I want to encourage you to enjoy your vacation and just train when you can. Don't stress about it.
In fact, if you take the whole week (or 2 weeks) off, it's okay. You're not going to lose a substantial amount of muscle and you'll be super fresh when you return back to your normal gym routine.
Lastly, take a look at my full body workouts post. You may get some ideas from that for vacation workouts.
Train with Passion,
Jason