Jason's TestoFuel Review
* Click here for the Official TestoFuel site
If there's one element of bodybuilding or strength training that simply cannot be ignored, it's testosterone. You can train as hard as an Olympia competitor but if you have low levels of testosterone, you're not going to build any muscle, or at least you're not going to even come close to reaching your full potential for building muscle. And for men, as we get older our testosterone levels start to drop. So it makes sense that one of the most sought after types of bodybuilding supplements is testosterone boosters. Even lifters that are on the juice will often take an counter natural testosterone booster between cycles to kick-start their natural testosterone production.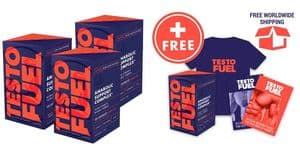 TestoFuel: Anabolic Support Complex
TestoFuel is a natural and safe, yet powerful supplement designed to help your body produce more of its own testosterone. One of the things I favor about Testo Fuel is that they do not hide the ingredients behind a propriety blend. What you see on the label is exactly what you're getting. And what you see on the label are thoroughly researched and proven ingredients known to boost testosterone naturally allowing you to increase muscle size and strength, cut body fat, and increase your overall health.
What's in TestoFuel?
Before we dive into our TestoFuel review let's take a look at the label. We see that Testo Fuel contains precise doses of highly effective nutrients that are essential for increasing testosterone naturally. Here's quick rundown of the ingredients.
D-Aspartic Acid – There's been a ton of research on D-aspartic acid and it's been shown that this amino acid may have a positive effect on luteinizing hormone and testosterone up to almost 50%. Studies also show that D-aspartic acid may increase HGH (human growth hormone) levels.
Zinc – A vital mineral for anyone looking to build muscle. It's well known to keep testosterone levels up.
Magnesium – Magnesium is responsible for balancing calcium levels as well as ensuring that protein, carbohydrates and fats can be used as energy.
Vitamin B6 – Vitamin B6 is essential for not only boosting testosterone but it's also needed for your body to function properly. Vitamin B6 has been known to stimulate androgen receptors and may also suppress estrogen levels, both of which naturally increase testosterone levels.
Vitamin D – It's a fact that men that are deficient in vitamin D have lower free testosterone levels. Taking vitamin D is essential for hormone support and sexual health, which is directly related to testosterone.
Oyster Extract – Oysters are known for containing extremely high levels of zinc and we all know that zinc is imperative for increasing testosterone. Oyster extract is also loaded with amino acids, fish oils, vitamins, copper, magnesium, and several other trace elements. All of these nutrients are important for recovery and building muscle.
Ginseng – Ginseng is an herb that boosts testosterone levels by increasing the sex hormone that stimulates cell growth and reducing hormones that cause low testosterone.
Fenugreek – Fenugreek is a herb that enhances libido and normalizes testosterone levels by containing saponins that may help produce sex hormones.
*My Experience with TestoFuel*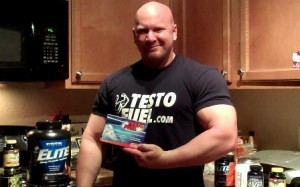 The most frequently asked question is 'Does TestoFuel work?' These days people want a quick fix; they want to pop a pill and expect to get huge off minimal effort. But we all know there's no magic pill in this game. What I can do is share my results and the facts from my experience with TestoFuel.
TestoFuel is loaded with everything you need to get bigger, stronger, and leaner. So if you're training hard and your diet is decent, then yes, TestoFuel works, and works quite well. If you're training half-assed and eating crap, then you may be disappointed with the results (not only with TestoFuel, but with any supplement).
* BUY 3 GET 1 FREE DEALS – CLICK HERE FOR MORE INFO *
As with most over the counter testosterone boosters you probably won't feel anything right away. So I didn't expect to feel or see any major changes in my physique and strentgh for the first week or so. After a couple of weeks of taking Testofuel (three capsules a day as per the label), the first thing I started noticing was an enhanced overall sense of well-being. TestoFuel is loaded with vitamins and nutrients that the majority of us don't get in our regular diet no matter how healthy we may be eating. I also noticed my muscles becoming harder and I felt more pumped during my TestoFuel review, not only during my workouts, but even throughout the day.
The highlight of my TestoFuel review was not only were my muscles harder but I noticed my body was getting leaner, yet I didn't lose any strength or muscle (which is often associated with getting leaner). Usually people lean out or bulk, but not both at the same time. Granted, I my strength didn't substantially increase but I was progressively getting stronger while it seems it was easier for me to cut fat at the same time. This is a complete win-win in my book.
IMPORTANT – Don't confuse Testo Fuel with prohormones or anything that claims to give you steroid-like effects. That being said, there are no harmful side effects. TestoFuel is an all natural testosterone booster than utilizes safe and natural ingredients. More importantly, the ingredients in Testo Fuel are backed by numerous studies and scientific research, and are proven to increase testosterone levels naturally.
The only thing I'll do differently next time is order more TestoFuel because I feel like you need to take TestoFuel for at least three months to get the maximum results. In fact, since this is a natural supplements there's probably no need to cycle it. I also feel like TestoFuel can replace many of the supplements I take, so in essence this will reduce my overall supplement bill.
Benefits of Taking TestoFuel
We can clearly see how TestoFuel Anabolic Support Complex helps boost testosterone levels. But we also found even more health benefits in our TestoFuel review. Here are a few key points below:
> The oyster extract alone could very well replace your daily multi-vitamin.
> TestoFuel provides essential fatty acids.
> You no longer have to spend extra money on the herbs Ginseng and Fenugreek.
> You don't have to take an anti-estrogen product with or after taking Testo Fuel.
> If you're taking the effective ZMA formula, you no longer need to as TestoFuel contains zinc, magnesium and vitamin B6.
Why TestoFuel?
As I mentioned in my TestoFuel review video, one of the first things that sparked my interest is the clear-cut no-B.S. label. They tell you exactly what's in the product, and exactly how much. You can take the recommended dose, or you can bump it up a notch if you're an experienced lifter that already has some good size. Also, the ingredients are safe and natural, and they work for boosting testosterone naturally.
TestoFuel contains proven nutrients for boosting testosterone and contains several other benefits which can actually eliminate the need to buy other supplements.  The ingredients in TestoFuel are safe and are backed by an abundance of studies and research. If you're looking for an alternative to prohormones or anabolics, or just looking for a supplements that's proven to build muscle without negative side-effects, TestoFuel is definitely worth adding to your exercise and supplement regimen.
Train with Passion,
Jason Stallworth