Protein is protein, right? You and I both know not all whey protein powders are created equal. And if you're like me, there are some that just tear up your stomach! 
In this post, I'm going to share my top 2 whey protein powders with you, and why I take them. In fact, I've been alternating these whey protein supplements for several years, and I'm still using them today.
Oh, and you'll also going to get some protein shake recipes in this post – you'll love my muscle building post-workout shake. It's time to get 'WHEY' huge!
Why You Should Use Whey Protein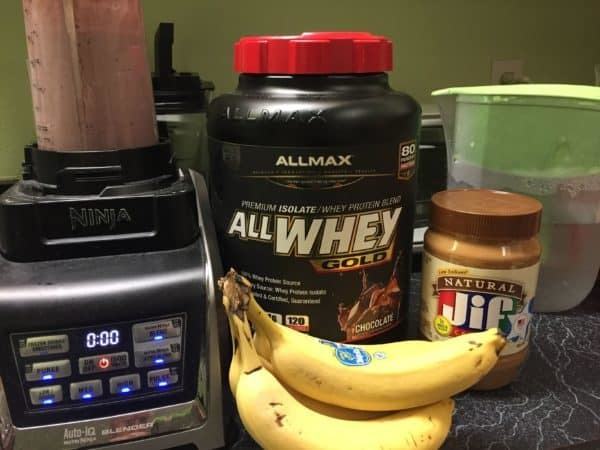 Before I get into the products, first let's answer the question of why you should use whey protein. Why not eat regular food?
I'll agree that eating whole food for the majority of your meals is the best choice. But it's not practical for most people, especially the working class bodybuilder. 
Secondly, whey protein is just that – whey protein! There's hardly any fats or carbs in whey protein powders, which simplifies your nutrition, especially if you're counting your macros. 
I personally don't count macros, but almost of us keep track of how much protein we consume daily. Because protein is the key to muscle gains. 
Benefits of Whey Protein
Fast-digesting making it perfect for post-workout shakes
One of the best sources of pure protein
Easy to make quick meals or snack
Excellent for bodybuilding diets that require high protein
Contains a superior amino acid profile
Helps your muscles recover faster from workouts
Whey protein also has several health benefits outside of helping you pack on muscle. One big one is lowering cholesterol.
You can read more about these benefits on the Medical News Today website, 'What Are the Benefits and Risks of Whey Protein?' written by Joseph Nordqvist (this was also peer-reviewed). 
Whey Protein Reviews: My Top 2
I want to reiterate that these are whey protein powders I've been using for years now! What are they? 
ALLMAX ALLWHEY Gold
Dymatize Elite Whey Protein
The biggest reason why these are my favorite 2 whey protein supplements is they both agree with my stomach. I've never had any issues with them. This doesn't mean all other protein powders suck. We all respond differently to supplements. 
But I've tried whey protein powders from other reputable brands and they killed my stomach. Wanna talk about 'being on the run!' I know, that's kind of gross, but I'm sure you can relate! 
Let's now dig into my review of ALLMAX ALLWHEY Gold and Dymatize Elite Whey protein powders below. 
ALLMAX ALLWHEY Gold Review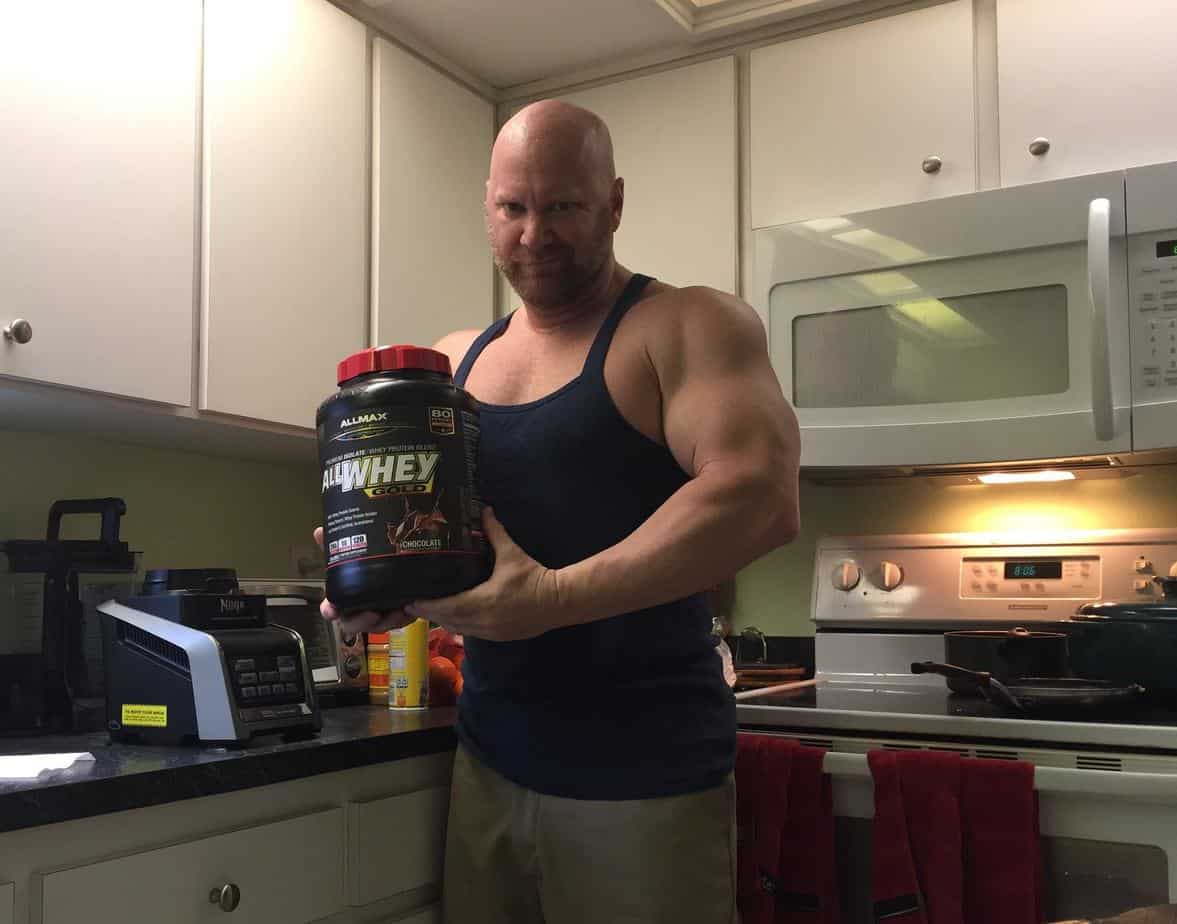 ALLWHEY is actually the first ALLMAX supplement I had ever tried (I also picked up a container of AminoCore with it, which you'll see in my video review below).
I didn't know that much about this company but heard they were considered a premium brand. So I figured I should give it a shot…a 40-gram shot! 
I couldn't find any samples, and instead of getting a smaller container, I made the jump and went with the 5 lb jug of AllWhey. Go big or go home, right?
Fast forward to several years later and ALLWHEY has actually become my main protein powder. There's a container sitting on top of my fridge as I type, and one on the way from Amazon (supposed to be delivered today!). 
Alright, now I'm going to rate ALLWHEY. Keep in mind these are just my opinions based on my own experience. 
My ALLWHEY Ratings
Taste – 5/5
I'm only rating the ALLWHEY vanilla flavor because that's primarily what I use. Vanilla tastes awesome with my protein shakes, which I typically mix my post-workout shakes with frozen blueberries.
At certain times, I will just mix a couple of scoops of ALLWHEY by itself. This is mainly if I just want extra protein without carbs or fats.  This is where most protein powders taste, well, not so good. ALLWHEY is actually ok on its own. 
I've also tried their chocolate flavor which goes good with shakes with peanut butter and bananas. 
Good on My Stomach? – 5/5
I've never had any stomach issues with ALLWHEY! 5 stars for this! In fact, I monitor how I feel after meals to see what foods work best for me, for energy. And I feel pretty good and energized after an ALLMAX shake. 
Mixability – 4/4
I'll rate mixability on its own. And here's what I've learned with ALLWHEY. 
Put your protein in a glass. Pour the in the water. If you're stirring, stir for about 30 seconds. Let it sit, and stir again. Then you're good. 
If you're shaking it in a shaker, then just shake hard for 20 seconds. Kinda like the Shake Weight! Lol! 
Price – 5/5
I've never liked paying a ton for whey protein because I know it's so cheap to manufacture. ALLWHEY is comparable to the other reputable brands of protein, so I'm not complaining. And in my opinion, ALLWHEY is much better quality than most. 
Overall Quality – 5/5
Like I said, ALLMAX ALLWHEY Gold has been one of my go-to protein powders for several years. And you've just read the reasons for that.
One last note and this really takes things over the edge, you'll never lose your scooper in the mass of protein powder! They make the scoop so that it fits right inside the hole where the lid goes! Pretty creative and innovative! 
ALLMAX ALLWHEY Video Review
Where to Buy ALLMAX ALLWHEY Gold
You can buy ALLMAX ALLWHEY Gold on Amazon for a fair price.  
And of course, the 5 lb jug is far more cost-effective than the other serving sizes. 
Click the button below to order!
Dymatize Elite Whey Review
Once I tried Dymatize Elite Whey protein for the first time, I stuck with that brand for many years.  It's contributed to many years of muscle gains and strength increases. 
I would try different protein powders here and there, mainly because I was doing a lot of supplement reviews back then.  But I always reverted back to Dymatize for my main source of whey protein.
The great thing about Dymatize is the included digestive enzymes. And I think this is where some supplement goes wrong.

They either skip this, or the types of digestive support they include in their protein does more harm than good (ex: I won't mention the brand, but I took one premium protein supplement that had these 'advanced digestive enzymes' and my stomach was torn up for 2 weeks straight…I couldn't finish the jug!). 
I know I harp on the stomach part, but that's a big drawback with many whey protein powders. It's nice to know there are a couple of quality whey protein supplements that agree with me. 
Here are my ratings below for Dymatize Elite Whey…
My Dymatize Elite Ratings
Taste – 5/5
I've always been a fan of Dymatize Elite whey protein taste since day 1. Their chocolate is my favorite, and vanilla is good too.
I've tried some other flavors…to be transparent, I'm not a fan of crazy flavors. I'm simple and pretty much stick with just chocolate or vanilla. 
Good On My Stomach? – 5/5
The reason why I've been using this whey protein for so long is because it never gave me an upset stomach. If anything, it makes my stomach feel comfortable, whether mixing it with other foods (for smoothies and shakes) or just chugging a glass of it on it's own. 
Mixability – 4/5
The chocolate flavor mixes awesome on its own, even just stirring it in a glass of water. For some reason, the vanilla doesn't mix quite as well (but still mixes better than most proteins). 
Price – 4/5
I've seen the price fluctuate a little on Elite whey more so than other proteins. But it's still very reasonable considering other proteins. 
Overall Quality – 4/5
I've tried other Dymatize protein powders, like their Gourmet, which is a whey-casein mix, and also their isolate. All are quality protein powders and I've never had stomach issues with any of them. 
Dymatize Elite Whey Video Review
Buy Dymatize Elite Whey from Amazon
You can buy Dymatize Elite Whey protein on Amazon for a fair price.  
Save by going with the 5 lb jug, and you can't go wrong with chocolate or vanilla!
Click the button below to order!
Runner-Up Protein Supplement
Another whey protein worth mentioning is CytoSport Muscle Milk 100% Whey. 
Their protein tastes pretty good too. And I don't recall having any stomach issue with it either.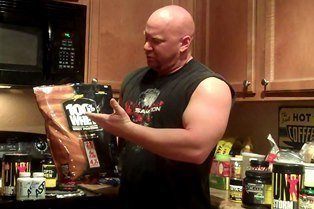 I still prefer ALLMAX and Dymatize whey proteins. But I would certainly try CytoSport Muscle Milk 100% Whey again too. And for single-serving ready-to-drink protein shakes, I'll drink Muscle Milk all day, every day! 
CytoSport 100% Whey Video Review
Jason's Protein Shake Recipes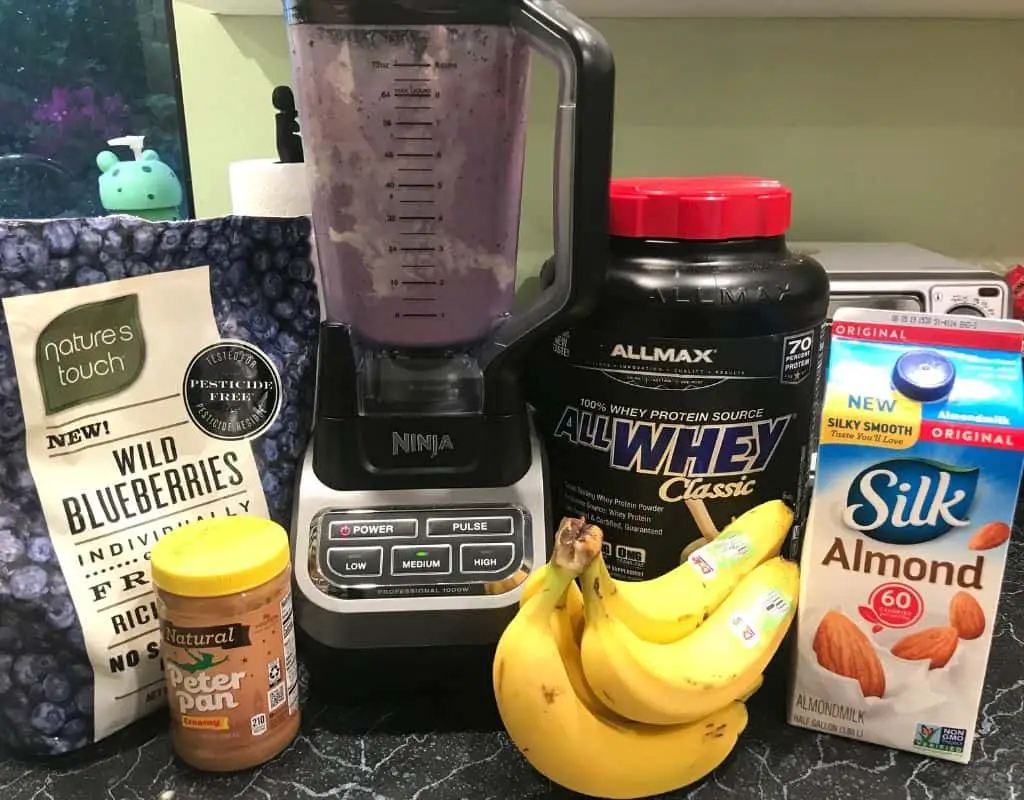 Now for the good stuff – my personal protein shake recipes! 
You'll find these to be quite simple, and tasty! And each one is catered to recovery and building muscle.
Enjoy, and let me know in the comments below what your favorite protein shake recipe is! 
Muscle Building Post Boosting Shake
My absolute favorite protein shake, and perfect for post-workout and recovery! It's also got some immune-boosting ingredients! And the almond milk with frozen blueberries gives it a nice creamy texture.
2 scoops of whey protein
8 ounces of almond milk
1/3 cup of frozen blueberries
1 banana
1/2 tablespoon of natural peanut butter
Protein Shake for Mass Gains
Wanna make some gains, bro? Some massive gains? Then this is your protein shake. 
Drink this twice a day and you'll pack on some muscle size. It's all about high protein and high carbs. 
Oh, and you'll definitely want a high powered blender for this, like a Ninja Auto IQ, Nutribullet or Vitamix. This is mainly because of the dry oatmeal. 
2 scoops of whey protein
10 ounces whole milk milk
1 packet of oatmeal
2 bananas
1/2 cup of frozen berry mix
1 tablespoon of natural peanut butter
Immune-Boosting Recovery Smoothie
This can be a post-workout shake or smoothie that you drink between meals. It's high in protein but also loaded with vitamins and antioxidants. 
There's a good chance that this shake could replace your need for multivitamins. 
1.5 scoops of whey protein
8 ounces of coconut milk
1/3 cup of frozen blueberries
2 carrots
1/2 serving of kale or spinach
1 teaspoon of raw, local honey
What About Whole Foods?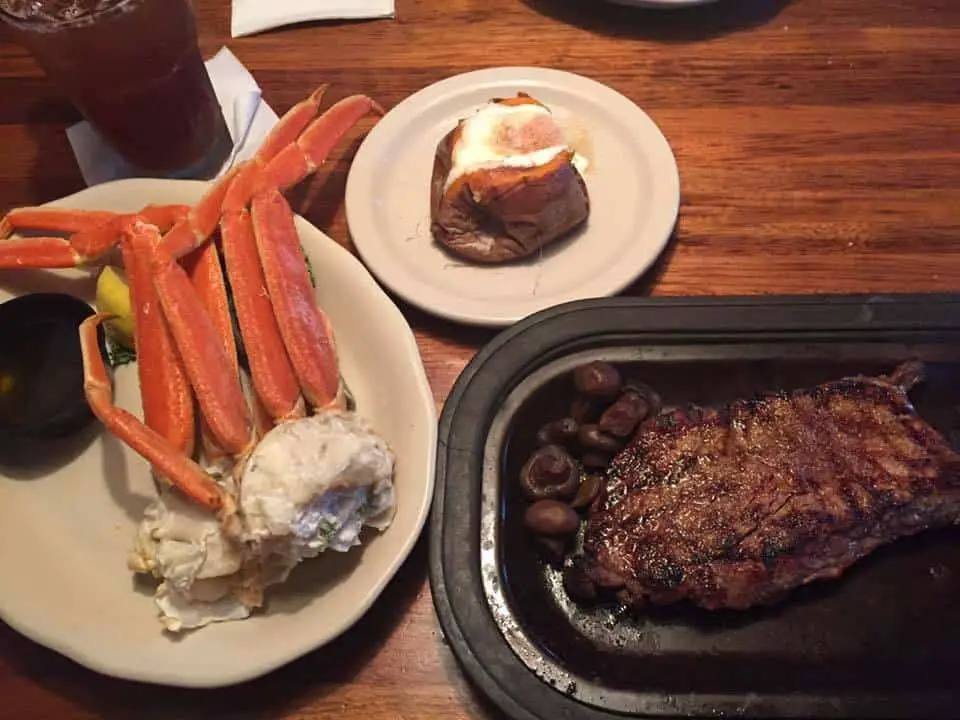 If you're looking for whole food meal plans for bodybuilders, check out the links to my posts below. These are some great resources to help you build your own muscle building meal plan that caters to your goals.
It's Time to Get 'Whey' Huge! 
I hope you enjoyed reading about my recommended whey protein powders. And again, these are just from my own personal experiences.
There are other great whey proteins out there. The key finding what works best for you and stick with it.
You can venture out to try new proteins now and then. But remember your goal is to build muscle, not become a professional whey protein taster (actually that sounds like a fulfilling job!). 
Train with Passion,
Jason