Hyper Gain Black is one of the most powerful creatine supplements you'll find packing on muscle.
You won't Hper Gain Black in stores it's only sold directly through the manufacturer. But you will see it in the gym bags of some of the most elite bodybuilders and lifters.
Note About ASR: ASR has some extreme controls and testing regularly performed on all of their supplements for purity.

ASR was founded by 2 Airforce veterans, Steve Young and Mike Ledeboer, who saw an opportunity to simply create better supplements in the strength and muscle building world.
ASR Hyper Gain Black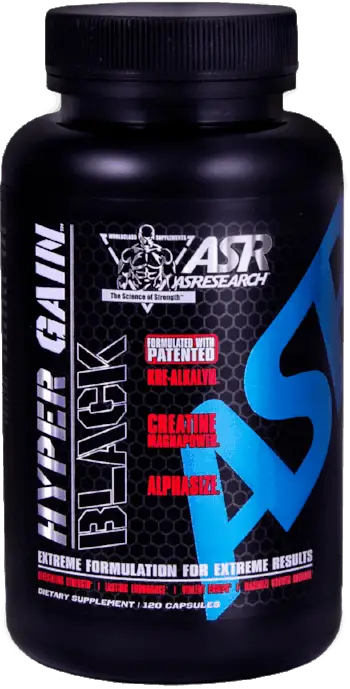 Hyper Gain Black is considered a mass gainer supplement that uses the first 100% bioavailable creatine called Kre Alkalyn.
This mass gainer also contains other powerful ingredients that work in conjunction with Kre Alkalyn, such as Creatine MagnaPower and AlphaSize A-GPC, for serious muscle gains.
Here are some benefits of taking Hyper Gain Black:
Great way to pack on mass for hardgainers
100% bioavailable creatine
Combined ingredients designed for gaining size and strength
Doesn't give you that puffy look like some muscle building supplement do
One bottle of Hyper Gain Black contains 90 servings, giving you a full 30 day supply (huge plus in my book). Now let's get into the ingredients, and then we'll jump into my ASR Hyper Gain Black review.
Hyper Gain Black is ASR Research's staple supplement. It's based on the original Hyper Gain formula they had (which was the very first ASR supplement I ever tried) and enhanced the formula. It's a solid muscle builder.
Hyper Gain Black Ingredients
Here's a list of the Hyper Gain Black ingredients. 
Kre-Alkalyn pH Correct Creatine
Agmatine Sulfate
Creatine MagnaPower 
AlphaSize A-GPC
Safed Musli
L-Carnitine
Vanadyl Sulfate
Vitamin B3 (Niacin) and Magnesium
Hyper Gain Black Review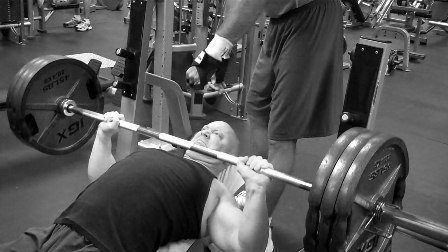 Like with most mass gainer supplements, you shouldn't expect to results right away. However, Hyper Gain Black works faster than any other muscle gainer. I'll break down the results week by week.
This Hyper Gain Black review is based an 8 week cycle:
Weeks 1-2
More energy during workouts
Boost in explosive power on heavy lifts
Weeks 3-4
Better pumps during workouts
Increase muscle energy, pumping out more sets and reps
Weeks 5-6
Increase in strength
Better body composition
Weeks 7-8
Bigger, stronger, and more definition than when I started taking it
At this point, your gains start to level out (maybe a good time to cycle off for 2-3 weeks)
*It's important to note that I didn't change anything else. I was still eating the same foods and taking my other basic supplements (whey protein, multi-vitamins, pre/post-workout, and amino acids).
Where to Buy ASR Hyper Gain Black
You can purchase Hyper Gain directly from ASR Research.
Make sure you take advantage of their special offer – see if they still have the BUY 2 GET 1 FREE deal. They also have a subscription service where you can save. 
Click the button below to order now.
---
There are 2 more ASR supplements that I'd like to highlight because their results are noteworthy.
ASR Jacked Up
ASR Shred360
Jacked Up is a potent testosterone booster and virility enhancer. Shred 360 is to be used when your goal is to get cut and in extreme conditioning.
ASR Jacked Up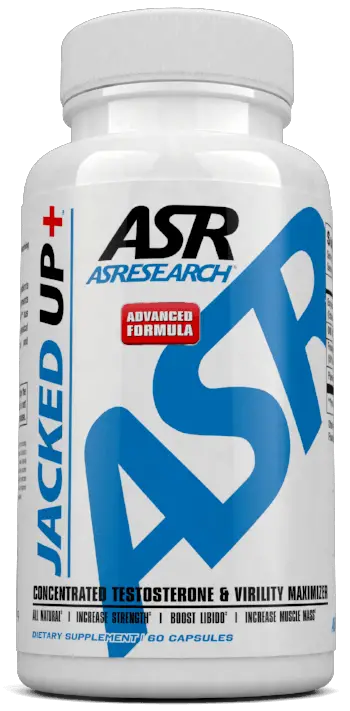 ASR Jacked ​​Up is labeled as a concentrated testosterone and virality maximizer.
The way it works is by boosting the luteinizing hormone, which in turn helps your body produce more free testosterone. 
Here are some benefits of taking ASR Jacked Up:
Helps you work out harder and longer by decreasing fatigue
Substantially boosts libido and drive
Increase stamina and endurance
Helps your muscles recover faster from workouts
Jacked Up gives you a full 30 day supply, which you'll take it daily. It's best to take with your meals (I prefer breakfast and dinner times).
Jacked Up Ingredients
I want to highlight the simplicity of the label. As you may know, I'm not a huge fan of supplements with an endless list of ingredients. Because most of those are fillers, and you don't know what's working and what's not.
With Jacked Up, you have just a few effective ingredients. You really don't need anything else for this type of test booster. 
Below are the ingredients in ASR Jacked Up:
Eurycoma Longifolia
DIM (Diindolylmethane)
Fenugreek
Piperine
Jacked Up Review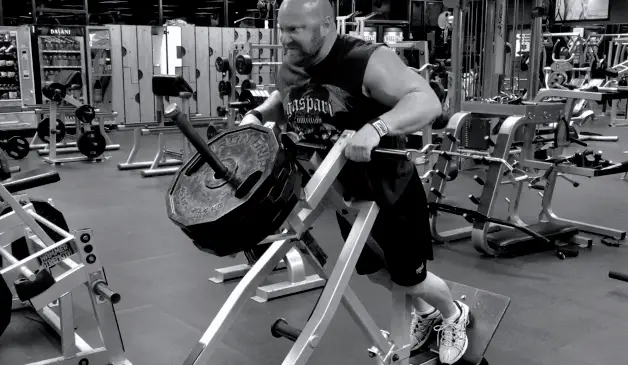 My ASR Jacked Up review is based on the first time taking it, and I was training hard and heavy! I read up on it before the company sent me a bottle to try. 
My workout schedule was:
Monday: Chest and biceps
Tuesday: Back
Wednesday: Legs
Thursday: Shoulders and Triceps
Friday: Chest and Arms
Saturday: Back and Quads
Sunday: Off
That's overtraining to some. But that's why I wanted a  test booster; to give me that extra edge. And I was also eating like a horse at that time. 
Weeks 1-2
More energy throughout the day (no mid-day crash)
Longer workouts as you don't get fatigued as fast
Weeks 3-4
Started noticing some strength gains on major compound lifts
Increased workout intensity
Weeks 5-6
This is when the visual results start to kick in more
Harder, fuller muscles
Weeks 7-8
Definitely noticeable results in body composition; more definition and striations
Like with Hyper Gain Black, things start to level off at this point
**I do not believe I would've gotten as good of results with Jacked Up had I not been training and eating the way I did.  Make sure you're serious about it before you buy it.
Where to Buy ASR Jacked Up
You can purchase Jacked Up directly from the ASR Research website.
Make sure you take advantage of their special offer – see if they still have the BUY 2 GET 1 FREE deal. They also have a subscription service where you can save. 
Click the button below to order now.
ASR Shred360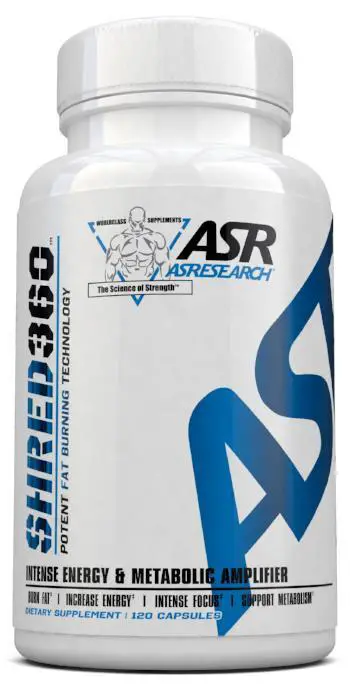 ASR Shred360 is labeled as an extreme fat burner. It targets those stubborn areas in both men and women…
For men: stomach, lower chest
For women: hips and thighs
Its main use is for those pushing it to the next level to get in top shape and conditioning, such as a bodybuilding or physique competition.
Here are some benefits to taking ASR Shred360:
Breaks down fat cells so they can be used as energy
Increase your metabolism by elevating your body's core temperature
Helps you focus more during your workouts and get into that 'zone'
Shred360 Ingredients
You'll notice LIPOMAX and HYPERFOCUS listed below. These are trademarked formulas. The labels do provide the ingredients in both formulas; however, they only give you the sum total of milligrams, not the amount of each individual ingredient. 
This is something I'm not a fan of (these are called proprietary blends). Yet after taking Shred360, I still feel that it's a solid fat burner and worth looking into if that's your goal. 
Vitamin B6
Vitamin B12
Chromium
LIPOMAX
HYPERFOCUS
Shred360 Review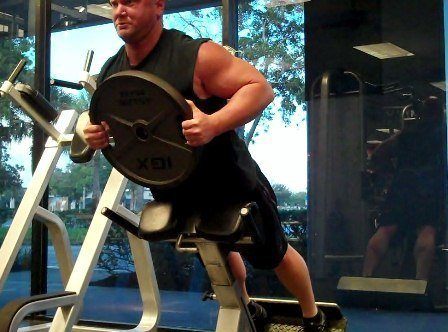 I did a little experiment with ASR Shred360. Most people will get on some extreme diet and do a bunch of endless cardio while taking a fat burner. I did the opposite.
Instead, I stayed on my same high-calorie diet and heavyweight training plan. You see, I wasn't looking to get super ripped. My test was to see if I could get a little more cut while maintaining my muscle mass and strength.
I took Shred360 for 4 weeks and here are the results…
Weeks 1-4
Definitely more energy (I backed off to a half scoop of my pre-workout)
A little jittery at times but had a lot more energy
I did maintain muscle and did not lose any strength
Body composition had slightly improved by week 4, but nothing substantial
Effects did start to wear off at week 4
Had I backed off some calories and did more cardio, I'm certain that I would have gotten the full benefits.

But if you've been following me for a while, you also know I'm not big on fat burners. And I'll carry a little extra (within reason) to stay bigger and stronger.
Where to Buy ASR Shred360
You can purchase Shred360 directly from the ASR Research website.
Make sure you take advantage of their special offer – see if they still have the BUY 2 GET 1 FREE deal. They also have a subscription service where you can save. 
Click the button below to order now.
Although ASR Shred360 is an effective fat burner, I also recommend that you read about the conditioning supplement that I also promote. I like this one a little better as it's made for bodybuilders to maintain muscle mass while getting cut. Read my post: Jason's Instant Knockout Review
Why I Promote ASR Research Supplements
The beauty of owning The Muscle Program is I get to choose what I promote, and what I refuse to promote.
In fact, I've turned down a ton of promotion offers over the years. And I will only promote a product I have actually taken for at least a full month. 
When I first started promoting bodybuilding and performance supplements on my site (around 2011), ASR Research was one of many supplement companies that reached out to me.
The first supplement they sent me to try was their original muscle building supplement, Hyper Gain. I was pretty impressed by the strength gains from it! So promoting Hyper Gain was a no-brainer!

Since, it looks like they have replaced that with Hyper Gain Black, which is more advanced (in my opinion). 
I then went on to try other ASR Research supplements like Jacked Up, Shred360, and several others. I can't say I was equally impressed with every single ASR Research supplement I've taken. But the handful of ones I have tried worked quite well. 
Quality of ASR Supplements
One important thing to mention is I can concur that the company has an extreme focus on the quality of their bodybuilding supplements. 
I have had several chats with their team leaders and they have taken me through the manufacturing and quality control process. In fact, all of their supplements are manufactured in a cGMP Compliant lab for guaranteed high quality
ASR is very hands-on with their supplement line. And the folks there are quick to answer questions and help. So I've always felt great about working with them, and their products. 
If you have any questions on the ASR Research products I've reviewed, leave me a comment below. 
Train with Passion,
Jason