Like you, when I turned 40, things really started to change. And every year after that, you can actually feel your testosterone levels decreasing. It's not cool.
I have a possible solution and will share my 2 cents in my Prime Male review. But I'm not just going to tell you about how great Prime Male works (or doesn't!). 
You're also going to learn:
Why it's crucial that we increase our testosterone as we age
The truth about testosterone boosters for men over 40, and Prime Male
How Prime Male compares to other test boosters (for older men…I mean, I'm not saying we're old!)
What supplements I personally stack with Prime Male to boost muscle gains
What is Prime Male?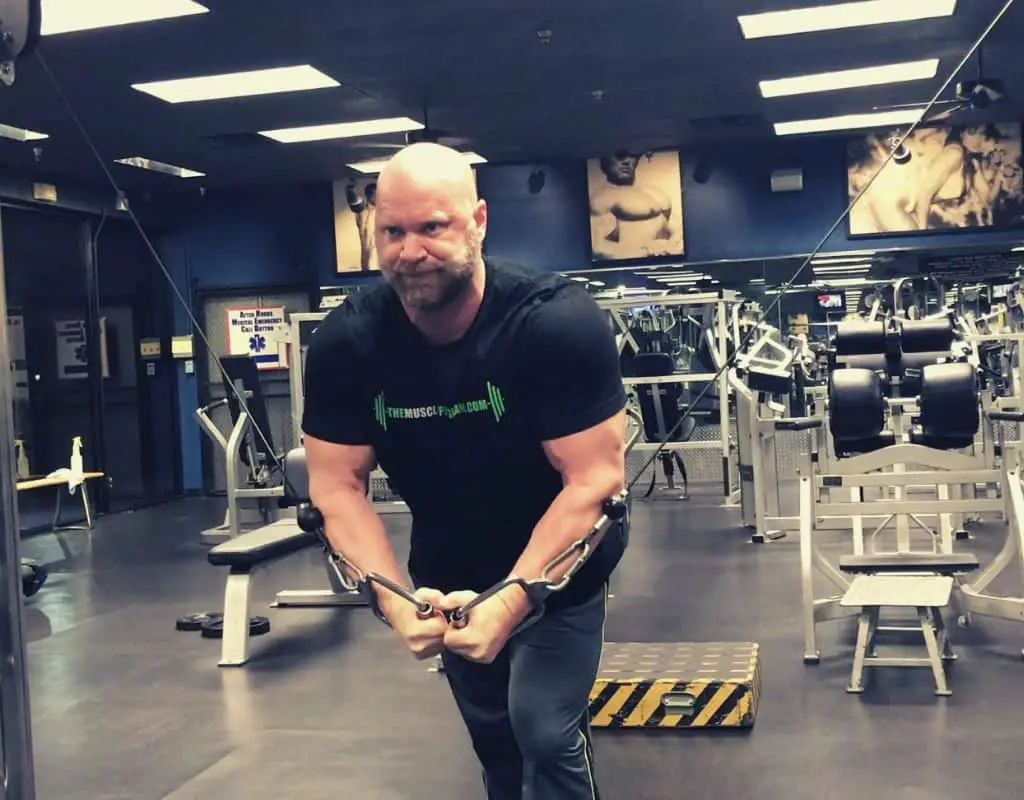 Prime Male is a natural testosterone booster created specifically for men over 40. The goal is to replace all of the awesome things we start to lose at this age like…
Our overall drive – not just libido, but drive to pretty much do anything
Lean muscle mass and strength – this is extremely important for us!
How Prime Male compares to other test boosters (for older men…I mean, I'm not saying we're old!)
What supplements I personally stack with Prime Male to boost muscle gains
How Does Prime Male Work?
With any testosterone booster, it comes down to 3 things:
The formula
Is each ingredient effectively dosed?
The purity of the ingredients
In my opinion, this is where Prime Male stands out, especially with point #2. Prime Male is loaded with proven ingredients (and we'll get more into the label later).
More importantly, each ingredient is effectively dosed. This is what makes Prime Male work so well. The ingredients are designed to bring back those lost elements of our manhood. 
**Before you purchase any test booster, take a picture of the label and do your own research on effective amounts of each ingredient.
Benefits of Taking Prime Male
Helps you build more lean muscle mass – you'll notice your workouts are better
Will compliment your diet quite well if you're cutting
Gives you more energy and endurance
And yes, it does indeed give your libido a boost
Why is Boosting Testosterone Important for Men Over 40?
You already know that increasing testosterone helps you pack on muscle, even in our 40s. And you're aware of the 'libido power' as well.
But there are some other reasons why it's absolutely crucial to have healthy testosterone levels.

Here are some benefits of increasing testosterone from the Art of Manliness article The Benefits of Optimal Testosterone that you may not be aware of:
Can help maintain a healthy heart
May strengthen your bones
Sharpens your mind
May reduce the risk of other diseases related to low testosterone
Visit the Prime Male Website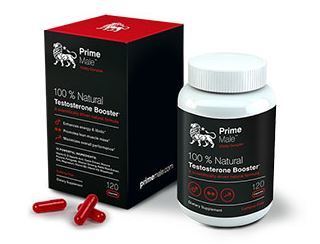 If you're ready to start making gains with Prime Male, click the button below to buy directly from the manufacturer (make sure you get the BUY 3 GET 1 FREE deal!)
Prime Male Ingredients List
Now let's take a close look at the Prime Male label.  Each ingredient is listed below, and why it's important. 
One of the reasons I like Prime Male so much is there are no proprietary blends! Rather, the label tells you exactly how much of each ingredient you're getting. 
D-Aspartic Acid (DAA) – DAA is an amino acid that increases the luteinizing hormone, which increases your natural testosterone.
BioPerine – This ingredient is now found in many high-end supplements because it increases the absorption and availability of other ingredients. 
Boron – Another ingredient that helps boost your body's ability to increase testosterone, and also helps with inflammation.
Korean Red Ginseng – Strengthens your immune system, boosts energy, and increases longevity.  
Luteolin – A powerful ingredient that suppresses estrogen levels. 
Magnesium – Helps raise your free testosterone by limiting binding factors.
Mucuna Pruriens – Natural source that helps reduce cortisol levels, which in turn frees you up to build more lean muscle. 
Nettle Root – Raises your serum levels so that more free testosterone is available. 
Vitamins B6, D3, K2 – The most powerful combination of high-quality vitamins to boost overall health, and support increased testosterone. 
Zinc – Most of us men are deficient in zinc, and our bodies do not store or create zinc. Zinc is required to release more of the luteinizing hormone we talked about earlier. 
Jason's Thoughts on the Label
There are a couple of ingredients that I would be ok doing without. One is DAA, as there's not enough research to prove it's part in boosting testosterone. 
I would also leave out any type of ginseng because that may counter the effects of vitamin B6, D, and zinc. 
Other than that, the formula is quite powerful. And from my experience, which you'll read about below, does produce results. 
My Prime Male Review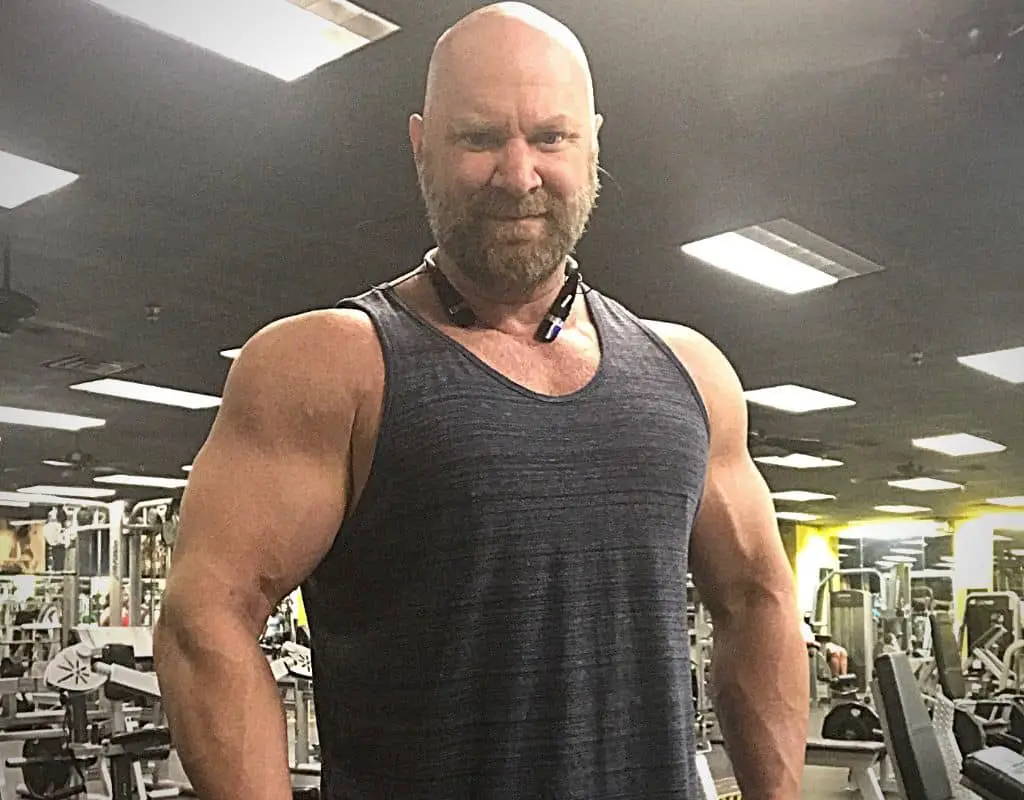 This Prime Male review is based on taking it for 8 weeks, and this was my first time trying it. I personally never recommend taking a test booster for less than 8 weeks, and you'll learn why below. 
But first, let me go over the key benefits I experienced…
The first thing I noticed when taking Prime Male is the libido boost. This is the one thing you may experience during the first week. And I would expect this from a test booster for men over 40 (this is a 'big' reason why we seek out testosterone boosters!). 
Soon after, I noticed that I was also able to workout longer. Prime Male gave me an extra boost to train with more volume. And most of you know I'm a fan of high volume workouts. Obviously this leads to more muscle. 
My strength was steady with gradual increases throughout the second cycle of Prime Male. I was a little shocked by this because I didn't expect to have strength gains on this type of test booster for older dudes. It was a nice surprise.
How Long Does it Take for Prime Male Work?
Do not expect to see immediate results with Prime Male. However, this does not mean that the product doesn't work. 
With any natural testosterone booster, it takes time for the ingredients to get into your system and start working. With Prime Male, give it at least 2 weeks to start seeing visible results.
Now, I'm also assuming that you're training hard! If you're not, then don't bother taking any test booster – you'll just be wasting our money. 
Pros
A definite libido boost
More strength and explosive power in the gym (assuming you lift heavy, and you should!)
Better workouts with the ability to pump out more sets and reps
Improved body composition with more striations and muscularity – again, this is assuming you workout hard and heavy
More drive and energy overall
All-natural, no side effects
Seemingly better brain function and mental clarity
Label is clear…no proprietary blends
Cons
Only available direct through the manufacturer (use the links on this page to purchase – this helps support my site as I do get rewarded – thank you!)
It does take a while to kick in, so you may be disappointed with just 1 bottle
How to Take Prime Male
As a disclaimer, I must advise you to follow the label.  To be transparent, I do not stick to the label with most of my supplements. Sometimes I take less, sometimes more.

With Prime Male it was neither – but I chose to take it at different times.
In the beginning, I followed the label:
1 capsule, 4 times per day with a meal
Taking Prime Male 4x a day was challenging and I found myself forgetting to take it at times. So I started doing this instead:
2 capsules in the morning with breakfast
2 capsules in the evening with dinner
I always recommend following the label! I'm simply sharing what I chose to do, and that worked fine for me.
What to Stack with Prime Male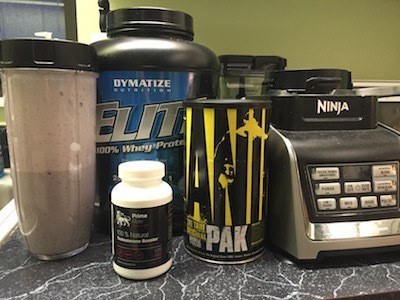 Here's the part where most supplement review fail. They don't tell you what else they're taking! So I'm going to share with you what I stack with Prime Male. 
Keep in mind that my Prime Male stack is based on muscle and strength gains. 
Protein powder – I actually don't consider this a supplement; it's part of my food budget and I use it for my post-workout shakes.
Multivitamin – A 'must-have' in any supplement stack – you can read about my favorite vitamin supplement in this post: Jason's Animal Pak Review
Pre-workout – I rely on pre-workouts, but I only take them on training days. You can read about my recommended pre-workout in this post: Jason's 4 Gauge Review
Creatine monohydrate – The best (and cheapest) supplement for muscle gains. 
Prime Male – Prime Male is something I cycle on and off throughout the year when I feel I need that extra boost. 
You don't necessarily have to take all of these supplements for Prime Male to work.  Again, I wanted to give you the full rundown of what I stack with Prime Male.
Because not supplement alone is going to produce substantial results. It's a combination of many things.
And don't forget that your workouts and nutrition play a key role! 
Should You Take Prime Male?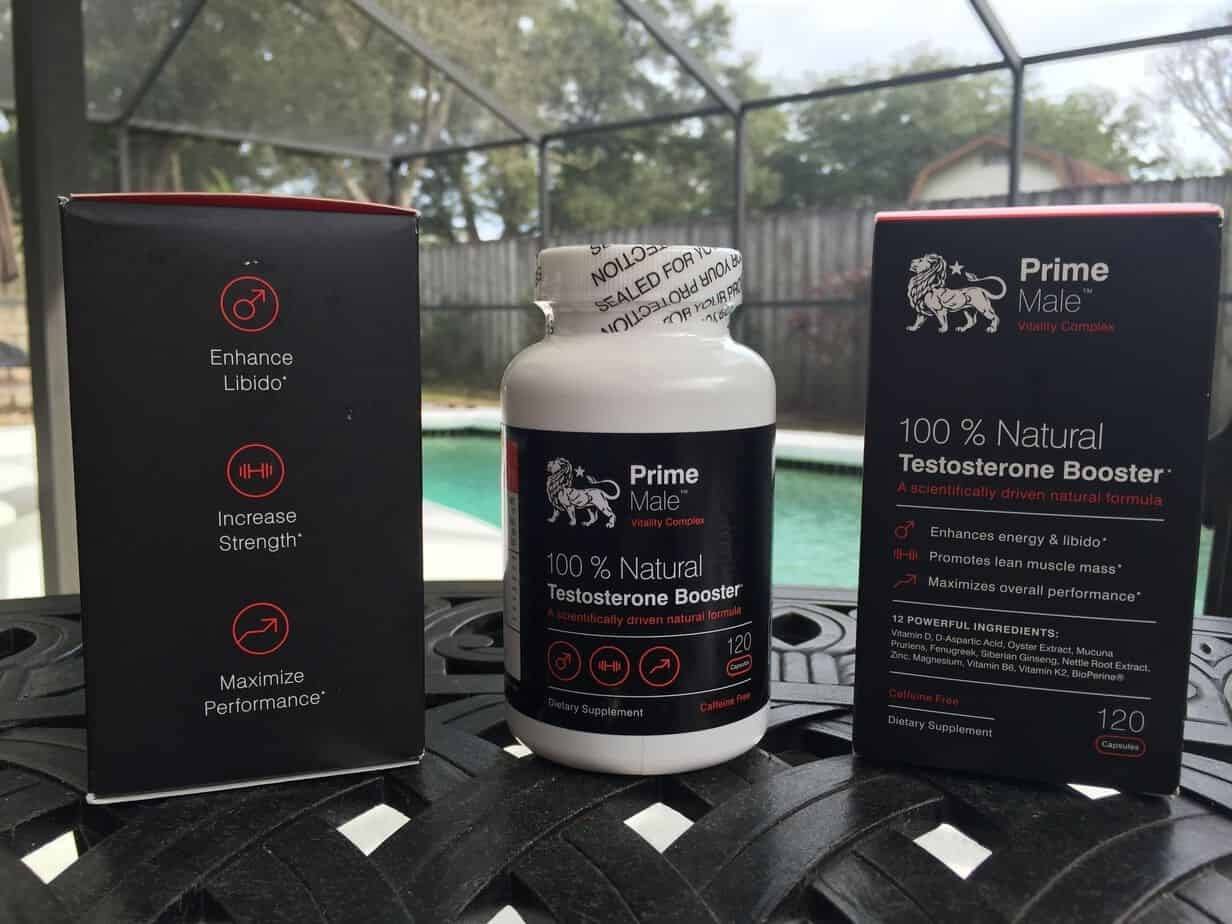 Let me reiterate that Prime Male does take some time to kick in, so to speak. Other than the libido boost, you probably won't see results in your physique right away. So give is a couple of weeks to work.
Is Prime Male really the best test booster for older dudes? It does address our concerns as we age (loss of muscle mass, decreased drive, more prone to carrying fat). 
Prime Male combats all of those, and in some cases can even reverse some of the effects of aging. I won't go as far as to say this is a true anti-aging supplement, but after a few weeks, you should notice some awesome changes in how you look and feel. 
Train with Passion,
Jason
Where to Buy Prime Male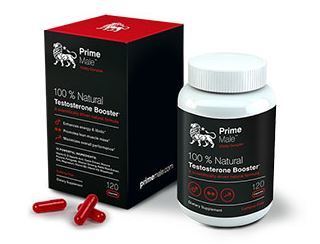 Now that you've read about my experience in my Prime Male review, and you know what to expect, I encourage you to get started, especially if you're over 40. 
Just click the button below and it will take you to the Prime Male website.
***Don't forget to take advantage of the BUY 3 GET 1 FREE offer!